oil on linen 36×32 inches, 2009
Private collection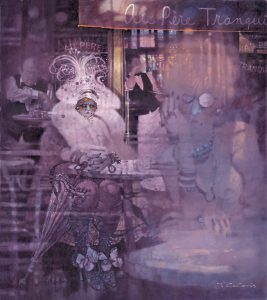 Au Père Tranquille is a beautiful old brasserie that once bordered Les Halles, the centuries-old food market Emile Zola dubbed the "belly of Paris." Though the surrounding area has changed significantly since the original glass-and-iron buildings were demolished, Au Père Tranquille maintains the look and feel of a traditional late 19th century café and eatery.
Over the years we have walked by this venerable institution hundreds of times, and we are always surprised to see the little outdoor tables bustling with activity day and night. There is usually at least one woman whose presence commands our attention, sometimes for her unique sense of fashion, but more often for her powerful sense of self.
The central figure in this painting is an aging but ageless grand dame: a woman of infinite grace and timeless beauty who will be with us forever. In the foreground is a scholarly aesthete of uncertain age: a woman of superior intelligence and refined sensibilities who existed decades ahead of her time.
The composition was rendered in a translucent palette to blend the two and make real the fabrications of the mind's eye. To simulate the peculiar sensation one experiences when walking past something at a rapid pace—that odd impression of seeing through peripheral elements when focusing on the middle distance.