oil on canvas 30×32 inches, 2001
Private collection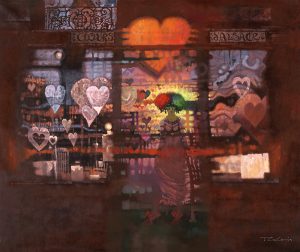 On the Île St. Louis there used to be a charming little store called Cœurs d'Alsace.
The antique glass of its storefront windows rippled and twisted reflections of the Seine while revealing the secrets within: hearts, hearts, and more hearts! What could be more delightful? A store full of hearts!
When Ted passed the shop on his daily run, he'd wave to the shopkeeper as she was tidying the window display or sweeping the stoop or polishing the brass. One afternoon he stopped to study the windows on his way to paint near Notre Dame. His morning friend came out to greet him, surprised and curious to see Ted carrying an easel and canvases. They exchanged a few words, and thus began their gentle friendship.
From then on, he stopped to chat with her about nothing and everything for a few minutes each day. On the few times I was with Ted when they met, I sensed his brief visits meant a lot to her. I knew how important they were to Ted.
Alas, her dear little shop was gone when we returned the next year, replaced by a more commercially viable store called The Oriental Bazaar. (Or something equally ordinary and forgettable.)