(Sunday morning)
oil on linen 30×24 inches, 2002
Private collection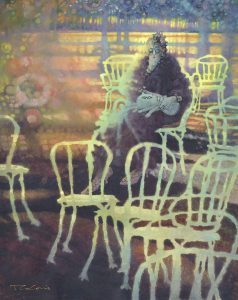 Dogs. Dogs. Dogs. Dogs are popular in Paris. In fact, many of the women in Ted's drawings are accompanied by cute little dogs on leash or in purse.
We prefer the cool reserve of a cat.
As a consequence of this bias (and as a result of having hundreds of drawings of our own cat), Ted invariably substitutes a creature more in keeping with our perception of solitary contentment.
The woman in this painting actually was sitting with a cat. A great furry cat on her great furry coat. How wonderful! Their presence was all the more delightful because they were all by themselves in the otherwise empty garden.