(I overlook nothing)
oil on linen 31×31 inches, 2012
Private collection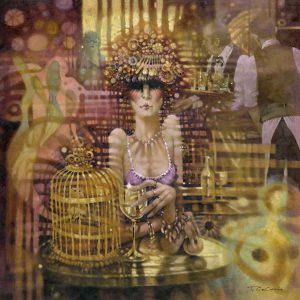 Tucked between grand buildings on the Il de la Cité is a collection of 200-year old metal-and-glass pavilions that house Marché aux Fleurs, a delightful plant and flower market. Every Sunday the shops spill out onto tables and stalls to sell and display all manner of bird and accessory.
One fine spring day we set off for the Marché aux Oiseaux to watch the activity, study the setting and do some drawings for a future painting. With a notebook full of images, but no real concept in mind, we continued on to the Jardin du Luxembourg to sketch the sights and savor the sounds of people celebrating the unexpectedly glorious weather.
As we were passing the café nestled under the trees by the palace, we were surprised to see someone we had seen shopping at the bird market earlier that day. We couldn't help but notice her then because she was drop-dead gorgeous. And there she was again, enjoying a glass of wine all by herself. The idea she might have an avian companion made her all the more intriguing!
In a flash Ted visualized the concept that had eluded him all day. He spent the rest of the afternoon making drawings of her and the setting and the waiters who glided in and out of his view.
Months later, as the painting was finally coming together, Ted resisted the urge to include one of the fabulous feathered fancies he favored. He chose, instead, to imagine this woman would prefer a rather drab little thing lest more colorful plumage compete with her own.