(the fountain of rivers)
oil on linen 21×24 inches, 2011
Private collection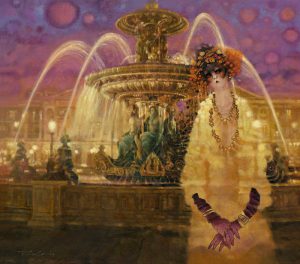 The Place de la Concorde, is the city's largest and perhaps busiest square. Over a dozen lanes of traffic circle around its perimeter, each vehicle jockeying for position as it races against the traffic lights. In the very center of this controlled chaos is a veritable island of calm: a broad pedestrian zone featuring the ancient obelisk of Luxor flanked by fabulous fountains of green and gold.
One evening as we were were crossing that vast square, our attention was drawn to a young woman striding rapidly in the direction of the Fontaine des Fleuves. She stood out from the crowd not only because she was walking with such purpose, but also because she never once looked up at the fountain blazing in its watery splendor. Suddenly she just stopped and stood motionless as a sea of people ebbed and flowed around her.
Intrigued by her curious behavior, we stepped to the side and continued watching her through five or six cycles of the crossing light. Though we were completely absorbed with her, she remained totally oblivious to us.
After a long while she turned away from the fountain and looked our way. Not at us, but almost through us: gazing into the distance with a look of wistful sadness.
With the next light she was gone, and we continued on in silence.