(the Orsay train station; now an art museum)
oil on linen 39×42 inches, 2005
Private collection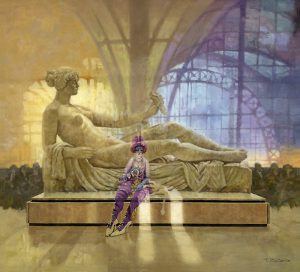 The setting of this painting is the Musée d'Orsay, an art museum that was once a magnificent train station. Renovated in the late 1980s, the museum maintains most of the vast open spaces of the original structure built in the 1890s.
On one of our visits, we were intrigued by a woman dressed fashionably for some other moment in time: a classical masterpiece in a contemporary setting. We saw her several times during the day, striding with great purpose as if determined to be on time.
When she sat down to rest, she looked dazed but content, as if waiting for a train that would never arrive.