(the exotic ladies of rue St. Denis)
oil on linen 48×34 inches, 2009
Private collection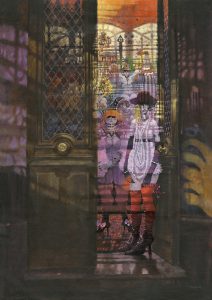 The preliminary drawings for this painting date back to 1980, when we first happened upon rue St. Denis on one of our random walks. Over the next 30 years, the concept developed slowly but insistently through many paintings and drawings of the individual characters.
Rue St. Denis has a rich history dating back to the 1st century, but it is perhaps better known for its streetwalkers, sex shops, and peep shows. We first discovered its rather dark charm on an early evening when the street was still swaddled in illusory innocence: the women were so self-possessed and beautifully dressed, one could easily pretend they were there by choice.
As we walked along we fantasized about the magnificent cabarets and bordellos and brothels that enlivened Paris at the turn of the last century. We thought about Degas and Toulouse-Lautrec, whose images immortalized the intimate lives of les filles de joie. We pictured a fanciful world of love and laughter, and we were inspired to create the ladies of rue St. Denis who never were…but could have been.