(timeless pleasures)
oil on linen 24×38 inches, 2012
Private collection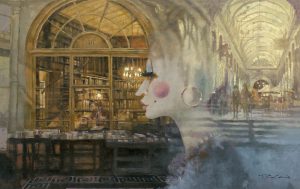 One of the most enchanting passages couverts in central Paris is the Galerie Vivienne.
Created in 1823 this covered shopping arcade near the Palais Royal still retains its original mosaic tile floor, soaring glass roof, arched windows, brass lamps, elaborately carved mouldings and exotic bas reliefs. Its broad walkway is lined with intimate restaurants, elegant boutiques and interesting shops, the oldest of which is Librairie Jouseaume, founded in 1826.
To step into this grand bastion of the printed word is to step back in time. The chandelier glows as warm and subtle as gaslight, and the impossibly crowded shelves disappear in soft shadows. A graceful staircase spirals into the dark upper reaches, inviting thoughts of a heavenly climb.
Magical moments await those who venture into this wondrous world of worn leather bindings and antique paper. Each precious volume holds the promise of timeless pleasures.