(back in the spotlight)
oil on linen 30×26 inches, 2012
Private collection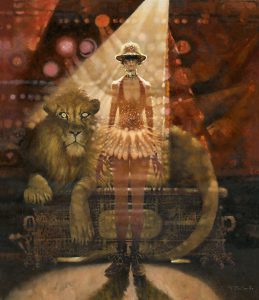 On our first trip to Paris in 1980, we quickly developed a passion for walking everywhere, regardless of distance, time or weather. Then as now, we love to soak in the sights of the street in anticipation of even more visual delights in whatever museum we have chosen as that day's destination.
Flashback to January 1980: Our 4-mile sunrise walk along the Seine was followed by a full day wandering around the Louvre and topped with a 3 ½-mile walk to the Musée Marmottan. By nightfall we were exhausted and decided we simply had to take a metro back to the apartment. As we left the museum we were drawn to the lights and activity in the nearby Jardin du Ranelegh where we were surprised to see an old-fashioned big top circus tent glowing gaily in the winter twilight. How could we resist?
Urged on by the barker's French equivalent of "Step right up!" we joined the line of excited children and began counting our francs. Oh, no! Just barely enough for two metro tickets. We looked at each other, shrugged our shoulders and said, "Hey, it's only another five miles…."
After purchasing the cheapest seats, we laughed to find ourselves perched alone on rough splintered benches high above the small crowd on the padded seats close to the ring. Ah, but it didn't matter. We cheered when the crowd cheered and groaned when the crowd groaned, all of us clapping wildly after every simple stunt.
This was a classic family circus where each person had two, sometimes three roles to perform: the ticket taker became the juggler, the candy seller became the snake charmer, the snake charmer became the tightrope walker, and so on. Everything was rudimentary and hand-made: glitzy costumes, plywood cannon, tin-foil-covered Buck Rogers rocket…. Only the wild animals were real, but they might just as well have not been; the dashingly handsome handler had to crack his whip to snap some life into the somnolent beasts.
The colors were gaudy, the lights dizzying, the music loud, and the crowd enthralled. The sights, sounds and sensations of that experience not only energized our long walk home, but also inspired dozens of sketches and ideas for future paintings.
The circus has since moved to a permanent location that we visit every few years to refresh our memories, nourish our imagination and stimulate new ideas. Though larger, grander and more sophisticated, it still feels like a simple family circus: full of wonder, mystery and magic but imbued with dark humor and tinged with subtle pathos.