(splendors of the courtesans)
oil on linen 54×49 inches, 2010
Private collection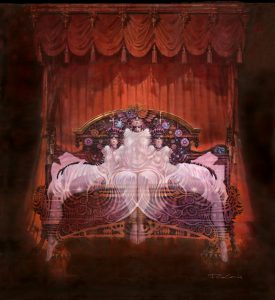 The source of inspiration for this painting was a magnificent bed in the collection of the Musée des Arts Décoratifs. The carved wooden bed is clad in gilded bronze, trimmed with luxurious silk, and draped by sumptuous velvet.
It was designed in 1877 for Mme Valtesse de La Bigne, one of the most prominent courtesans of Paris at the end of the 19th century. Madame Valtesse consorted not only with wealthy aristocrats, but also with prominent artists and writers including Gustave Courbet, Edouard Manet, Alexandre Dumas and Emile Zola among others.
Zola makes reference to this bed in Nana when he writes, "Nana wanted a bed such as had never before existed; it was to be a throne, an altar, whither Paris was to come in order to adore her sovereign nudity."
As we stood before this throne of Eros, we envisioned the bejeweled beauties whose wit and wisdom charmed and captivated some of the most powerful men in Paris.